Cristian Xavier Barajas is a right-wing extremist from Los Angeles, California who stormed the U.S. Capitol on January 6th, 2021. Barajas associates with other violent right-wing extremists from Southern California. Barajas has not been witnessed committing violence, but he has been known to menace antifascists and BLM activists online.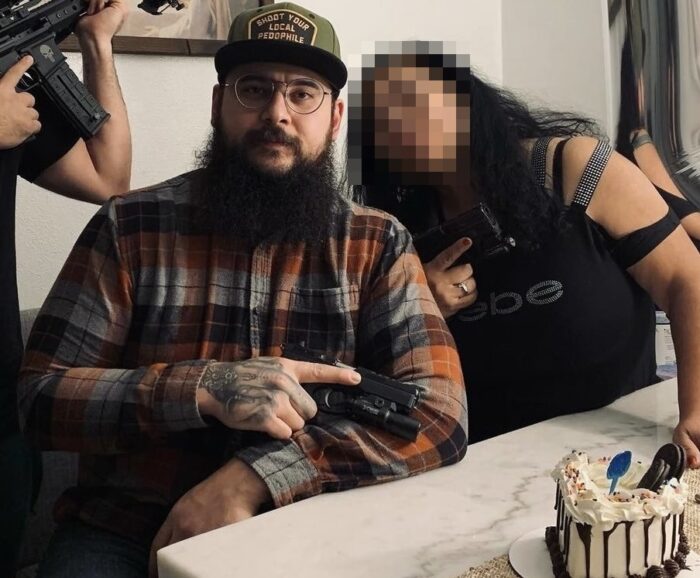 | | |
| --- | --- |
| Name | Cristian Xavier Barajas |
| Lives | Boyle Heights, Los Angeles |
| DOB | Jan 17, 1991 |
| Height | 5'11" |
| Weight | 185 lbs |
| Known Associates | Joe "MAGA Pit" Vargas, Chris Almonte, Kayla Reifschneider, Lip Kay, and Brian Dequinia. |
| Distinctive Marks | TAT RF ARM ("Disgruntled" red/orange letters), TAT R HND |
Cristian Barajas fetishizes guns. He often posts photos and videos of himself holding or dry-firing firearms.
Participation in the Jan 6 attack on the U.S. Capitol
During the Capitol riot, Cristian Barajas (plaid shirt, suspenders, blue cap) trespassed past the police lines on Capitol grounds near the Northwest Portico, steps away from where rioters had smashed several windows.
For reference, here is an explanation of where the NW portico is located, with a list of visual clues helping to orient viewers.
The following video shows Cristian Barajas (plaid shirt, cap, suspenders) trespassing at the U.S. Capitol on January 6th, 2021. For a brief moment near the end of this video, Barajas is clearly visible standing inside the portico area (timecode: 13m:44s in the original YouTube video, in which the broken windows can also be seen).
Cristian Barajas is known to associate with fellow right-wing extremists Joe "MAGA Pit" Vargas and Brian "Redpill Ninja" Dequinia.
Other Photos