Adam Edward Tiggeman Smith is a hardcore white supremacist, member of the racist Groyper movement, and former Navy sailor from San Diego who participated in the January 6th attack on the US Capitol.
Smith was nicknamed #YellowHoodieAFBrat by online sleuths for his yellow "America First" groyper hoodie that he wore while attacking the Capitol.
| | |
| --- | --- |
| Name | Adam Edward Tiggeman Smith |
| Lives | 2712 Mission Village Dr. Apt 12, San Diego, CA 92123-3205 |
| DOB | Oct 28, 1992 |
| Aliases | Scuffed Ryan Gosling, #YellowHoodieAFBrat |
| Affiliations | Groypers, holocaust denial, neo-nazi |
| Known Associates | Ryan Sanchez, Christian Secor, Nick Fuentes, Greyson Arnold, Nick Taurus, Kim Sorgente |
Adam Smith is close friends with Ryan Sanchez ("Culture War Criminal") and indicted Capitol rioter Christian Secor ("Scuffed Elliot Roger"). Smith, Sanchez, and Secor destroyed the Atascadero monolith in December 2020 in an act of Christo-fascist vandalism.
Adam Smith's brief stint in the Navy
Adam Smith was enlisted in the Navy from roughly 2012 until he left the Navy in 2016. He was posted on the USS George H. W. Bush as an Aviation Boatswains Mate, Handler – a low-level MOS responsible for carrying chock blocks and dropping them around the wheels of helicopters on deck.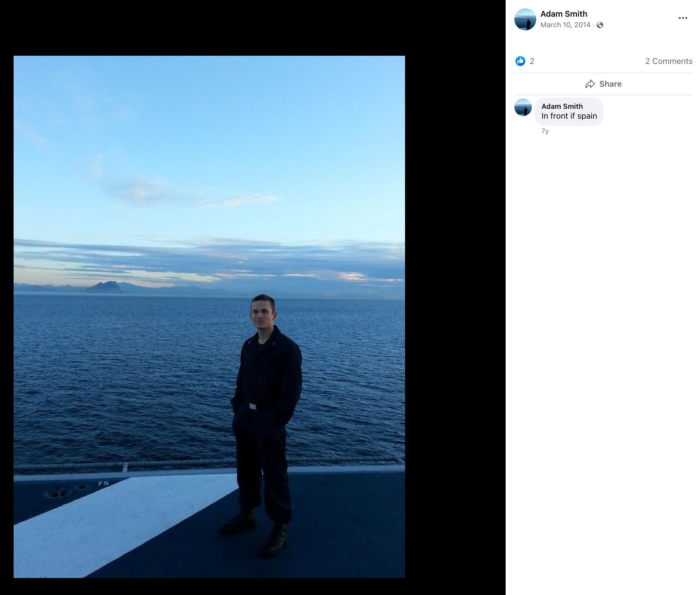 Adam Smith is a white supremacist and Nazi sympathizer
Adam Smith is a member of the white supremacist Groyper / "America First" movement led by holocaust-denier Nick Fuentes. Smith himself is sympathetic to Nazis.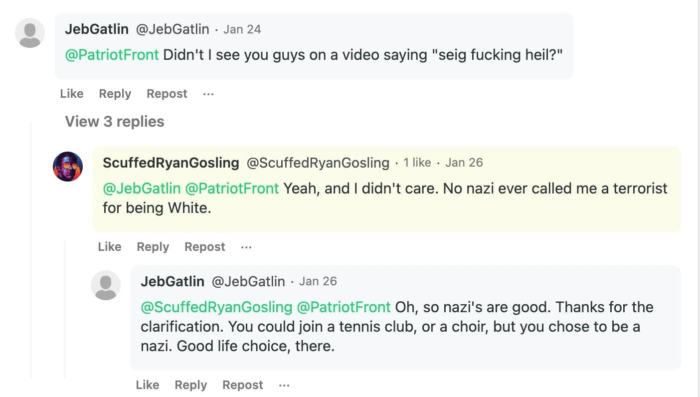 Adam Smith attended the violent January 9th, 2021 white supremacist rally in Pacific Beach, CA. In this photo, Smith (left) marches next to his fellow white supremacists in Pacific Beach while one of them gives a roman salute.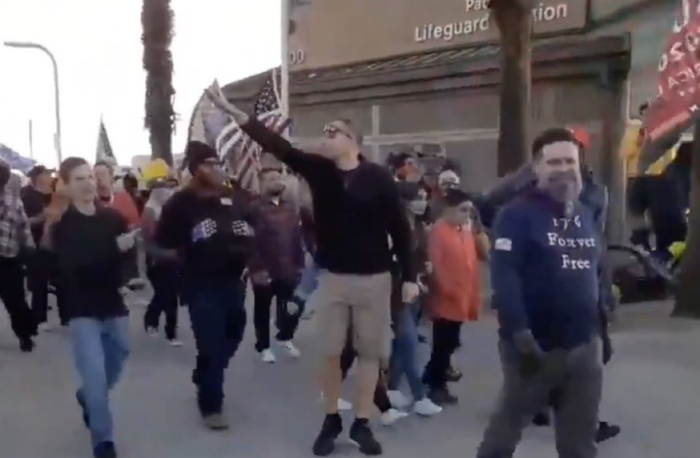 Adam Smith hates women
Like most white supremacists, Smith is also a misogynist. In this November 29, 2020 video, Smith is with fellow groypers Ryan Sanchez and Nick Taurus in Huntington Beach. The men scream "Shut up, whore!" to a woman passing by, then Smith says directly to the camera "The go-to thing to tell a whore to shut up is just to tell her her p*ssy stinks".
Adam Smith attacked the U.S. Capitol on January 6th, 2021
Adam Smith attacked the United States Capitol on January 6th, and can be seen in videos trespassing on Capitol grounds with fellow Southern California white supremacists (and indicted Capitol rioters) Kim Sorgente and Christian Secor. In these photos on Capitol's west plaza, Smith wears his signature "America First" yellow hoodie (hence the nickname #YellowHoodieAFBrat), while Kim Sorgente wears a red baseball cap and gray hoodie.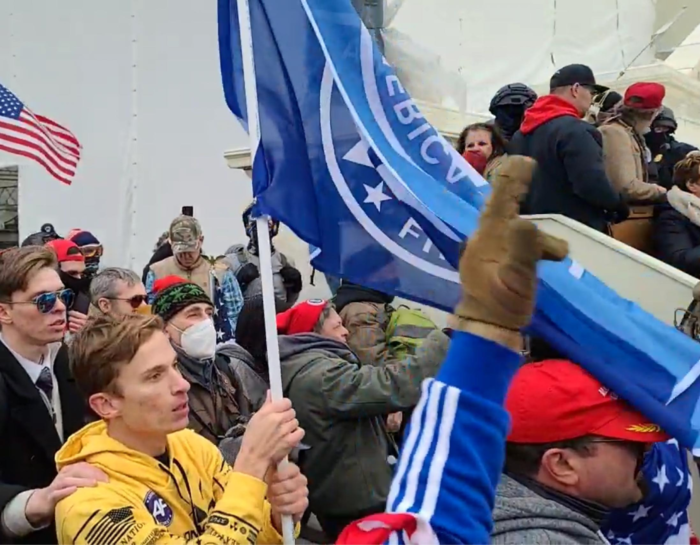 Adam Smith and fellow SoCal white supremacists
Adam Smith is close friends with Ryan Sanchez, who goes by the moniker Culture War Criminal. Sanchez frequently invites Smith onto his live-streams, referring to Smith by his nickname "Scuffed Ryan Gosling" or "SRG".
Smith frequently attends protests in Southern California with fellow white supremacists Ryan Sanchez, Christian Secor, Nick Fuentes, Kim Sorgente, and Nick Taurus.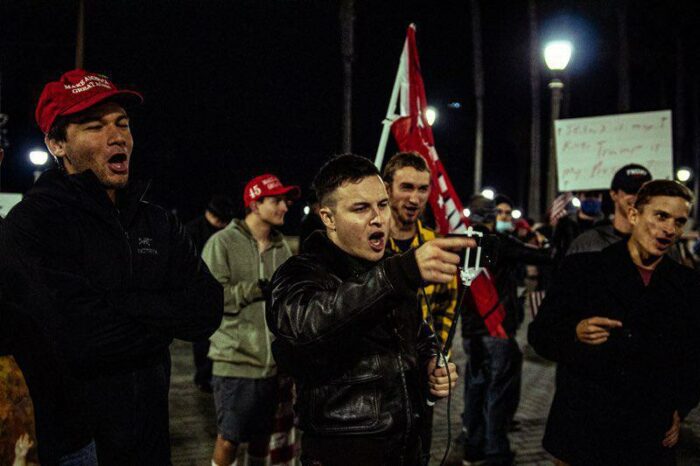 Action Items
We do not know who Smith's employer is. His last known employer was ACE Parking. If you have any tips about Adam Edward Smith's employer, please email pacantifa@protonmail.com.
Adam Edward Smith is a hardcore white supremacist, Capitol rioter, misogynist, and a danger to the San Diego community.