Jeffrey Thomas Sporman, aka "Scarecrow", is a neo-nazi, Ku Kux Klan member, and member of a Southern California-based white supremacist "active club" calling itself Legion XIV. Sporman, originally from Killeen, TX, lives in Thousand Oaks, CA and has an extensive criminal history that includes breaking & entering, public drunkenness, and other alcohol and drug violations. Sporman has recently harassed and threatened violence towards community activists and law enforcement.
| | |
| --- | --- |
| Name | Jeffrey Thomas Sporman |
| Lives | 424 Arbor Lane, Apt 104, Thousand Oaks, CA |
| Born | 12/18/1973, Killeen, TX |
| Aliases | Scarecrow, Tomato Jeff, Pokee, Scarecrow Ghost of Tomato Joe |
| Known Associates | Juan Cadavid |
Jeff Sporman often uses aliases like "Tomato Jeff" and "Scarecrow Ghost of Tomato Joe" as homage to National Socialist Liberation Front founder Joseph Tommasi, who was assassinated in 1975. Recently, Sporman has been trying to revive the NSLF in his hometown of Thousand Oaks, CA.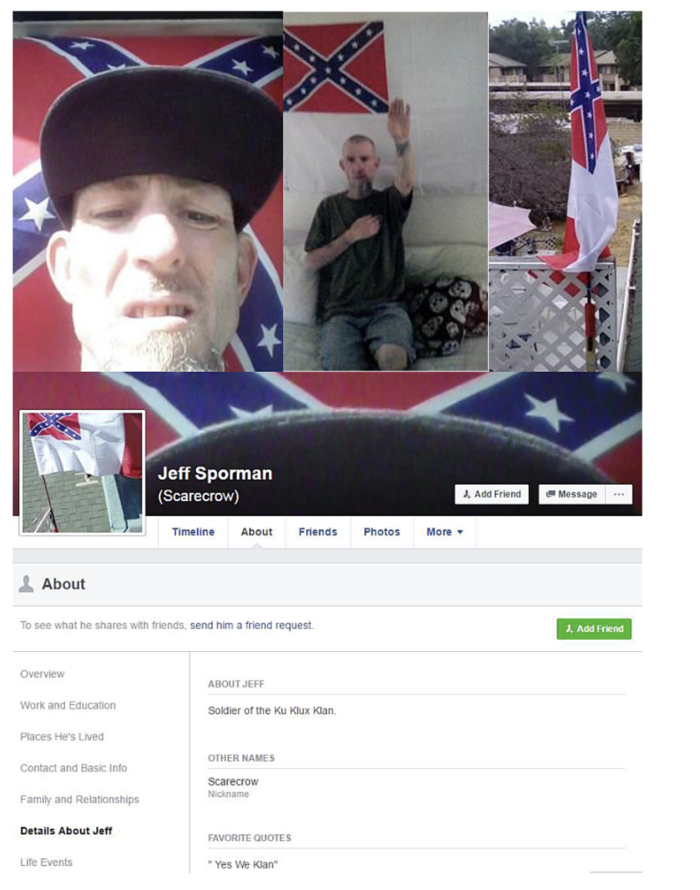 Jeff Sporman is affiliated with a new neo-nazi "active club" calling itself Legion XIV (a reference to the "14 Words"). This group is responsible for numerous acts of hate in Southern California, including the recent display of hate speech banners over the 101 Freeway in Thousand Oaks.
Sporman has taken to stalking and threatening the lives of local anti-racist activists. He also has made recent threats of armed violence towards law enforcement.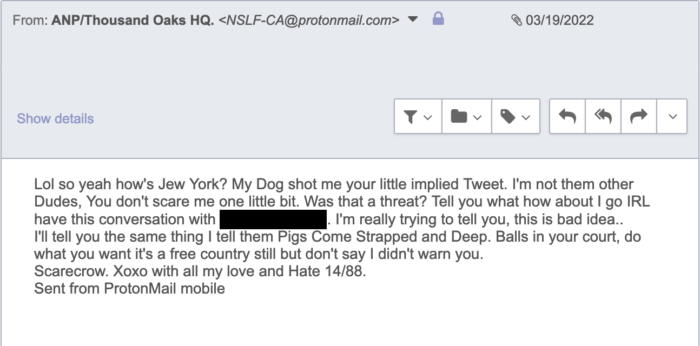 Jeff Sporman continues to be actively involved in acts of racist hatred in Newbury Park and Thousand Oaks. He and his fellow neo-Nazs are an active danger to the community. Please memorize his face and warn your neighbors about this active Klansman and neo-Nazi.