Juan Manuel Cadavid, aka "Johnny Benitez", is an avowed neo-Nazi and ring-leader of a Southern California-based white supremacist "active club" calling itself Legion XIV. Cadavid, who goes by Johnny Benitez (his mother's family name), is a long-time active member of the alt-right in Southern Califrnia. Benitez is a former member of the Proud Boys, Fraternal Order of Alt-Knights, and a precursor to the violent neo-nazi hate group Rise Above Movement called DIY Division.
| | |
| --- | --- |
| Name | Juan Manuel Cadavid |
| Lives | 41189 Harris Rd., Springville, CA 93265 |
| Born | 09/23/1998, Colombia |
| Aliases | Johnny Benitez, Sterling Abrade, Inquisitor Rex |
| Known Associates | Irma Hinojosa, Benjamin Daley, Robert Rundo |
Cadavid frequently quotes the "14 words" and cites Hitler's "Mein Kampf" as one of his greatest inspirations. Despite his being Colombian-American (he immigrated from Colombia to the U.S. as a child), Cadavid is a white supremacist and opposes immigration.
Cadavid was last seen in Thousand Oaks on March 12th, 2022 attaching neo-nazi banners to an overpass above the 101 Freeway with his fellow Legion XIV white supremacists. Cadavid and his fellow neo-nazis tried to intimidate a lone community member who bravely verbally confronted them over their hate speech.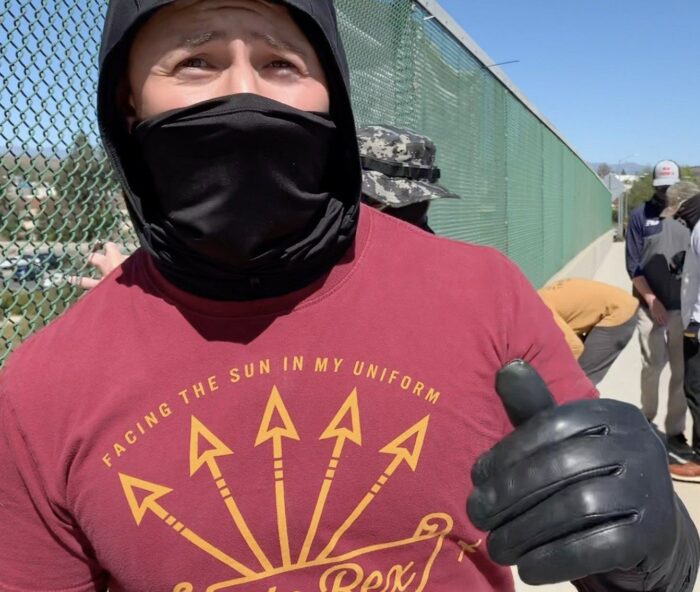 In videos from this incident, Cadavid is wearing a red shirt with a yellow Falangist symbol with the words "White Rex", a clothing brand started by Denis Nikitin, a Russian neo-Nazi hooligan with links to Ukraine's Azov Batallion and to the Rise Above Movement. While confronting the community member filming them, Cadavid repeats all kinds of false statistics justifying his hate speech.
Cadavid was a member of the SoCal-based DIY Division, a precursor to the violent hate group Rise Above Movement, whose members have been indicted and convicted of federal crimes for their violence at rallies. He was also an early member of the Fraternal Order of Alt-Knights (FOAK) and the Proud Boys, before being kicked out after disputes with other members.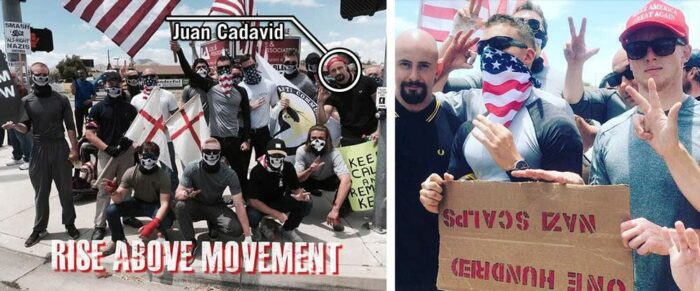 Much has been written about Juan Cadavid (mostly using his alias Johnny Benitez), so we will not repeat it here. Benitez and his common-law wife Irma Hinojosa (Legron) have a long reputation for grifting off the alt-right movement and using the money to fund their lifestyle. They purchased their Springville, CA home in 2021 for $290,000.
The Conejo Valley community rejects hate and wants to send a clear message to Juan Cadavid and his fellow neo-Nazis: your hate will not be tolerated here. You will be confronted and exposed every time you set foot in this community with your Nazi ideology.