Louie Mario Flores Jr., 42, of West Covina, CA, is an extremely violent member of the Proud Boys, a violent street gang whose leaders are under federal indictment for their role in the January 6th insurrection. The Proud Boys are designated as a hate group by the Southern Poverty Law Center, and the "BLako" (Bakersfield/LA) chapter is among the most violent Proud Boys chapters in the country.
Louie Mario Flores has been filmed violently attacking a number of activists and journalists, and he has participated in numerous right-wing riots with the Proud Boys, all while working as an employee of Frito-Lay in City of Industry, CA.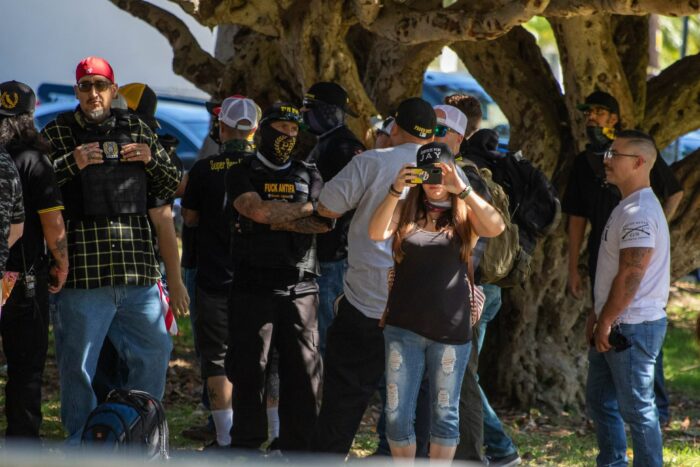 Louie Flores's violent attacks
As a member of the Proud Boys, Louie Flores has committed a series of violent assaults. At an anti-vax rally in Los Angeles on August 14, 2021, members of the Proud Boys attacked multiple journalists, counter-demonstrators, and anyone they deemed to be "antifa".
The following are just some of the many other rallies where Louie Flores has been present at where violence was perpetuated by the Proud Boys.
#StopTheSteal – Los Angeles, CA – January 6, 2021
Louie Flores joined his fellow Proud Boys and members of the "Bakersfield 1776 Patriots" at the violent January 6th, 2021 "Stop The Steal" riot in downtown Los Angeles.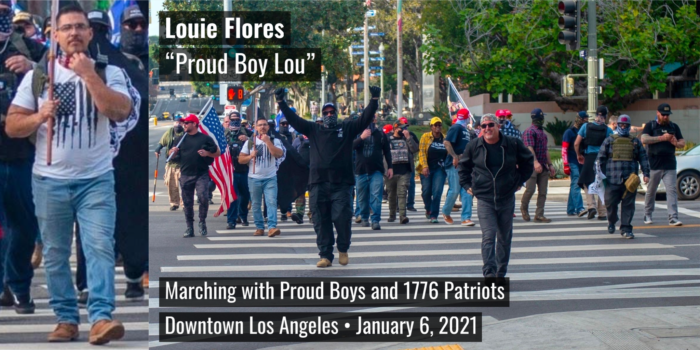 Egged on and protected by the Proud Boys, the right-wing mob carried out several brutal attacks on January 6th, including the violent near-lynching of Berlinda Nibo, a young black woman who lived in the neighborhood and was walking home from the store. An active hate crime investigation is still ongoing for this attack.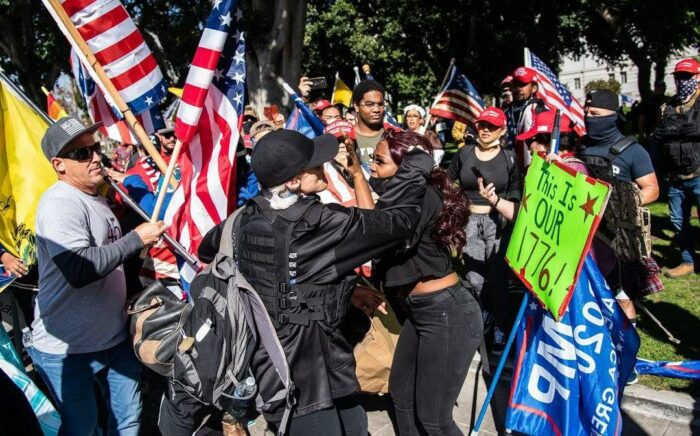 Louis Flores racist "stickering" all around Southern California
While driving the 3 a.m. to 4 p.m. delivery shift for Frito-Lay, Louie Flores travels around Southern California and places stickers with racist, anti-vax conspiracy, and pro-violence messages.
In late October 2021, Louie Flores (using Telegram user "Liberty above all else") (@sicsempertyrannis76) joined a Telegram group for "stickering" enthusiasts.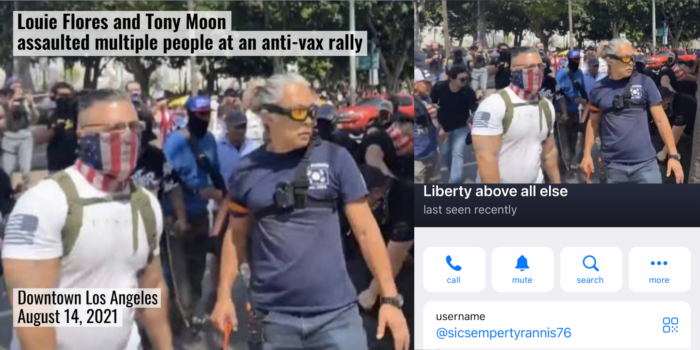 Members of these Telegram groups often share pictures of the stickers (primarily right-wing propaganda) they have placed around various areas – and Louie Flores was very eager to share the Proud Boy, anti-vax conspiracy, Kyle Rittenhouse idolizing and racist anti-black stickers he had placed in areas ranging from a restaurant in Rancho Cucamonga to the parking lot of his workout spot, Crunch Fitness, in San Dimas.
It was through the comments he made in this Telegram chat that the identity of "Proud Boy Lou"/"Blako Lou" was confirmed. We have reason to believe that Louie Flores placed some of these racist stickers while he was on the clock driving for Frito Lay.
Louie Flores participates in other types of "activism" outside of his role as a member of the Proud Boys. When he's not roaming the streets at rallies looking for counter-protesters to gang assault, he can be found working hard to spread vaccine disinformation.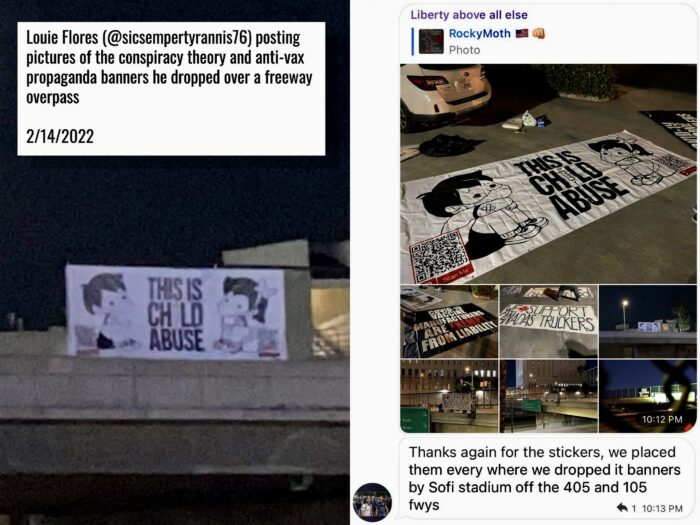 Louie Mario Flores's identity revealed
Louie Flores's Telegram comments didn't just reveal the cities @sicsempertyrannis76 previously lived and currently lives in, but also details about his exact neighborhood. Through that information, Louie Flores's residence was confirmed to be located a mere 1,750 feet away from the exact location he admitted was "right up the street" from him.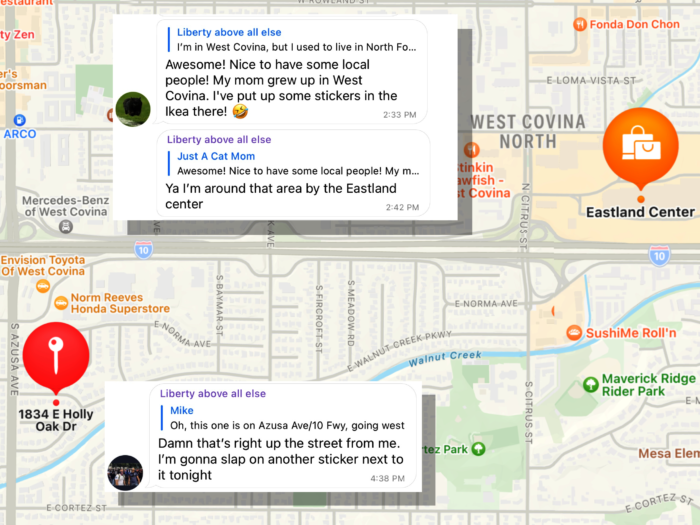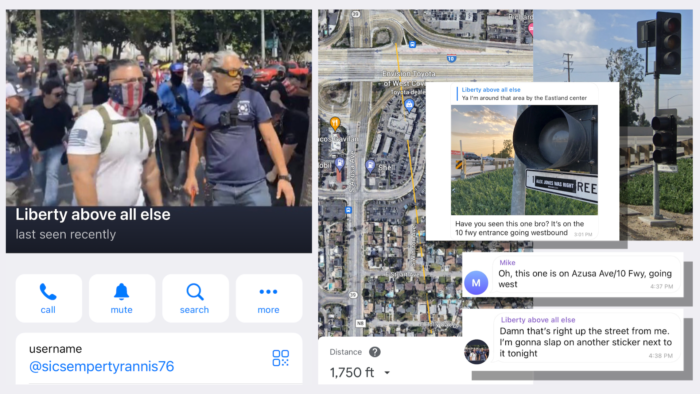 Louie Mario Flores has a tattoo on his arm with the name of his now-estranged wife, a detail that helped to confirm his identity from riot footage. A prior address for the couple was found in Fontana, where @sicsempertyrannis76 admitted he used to live.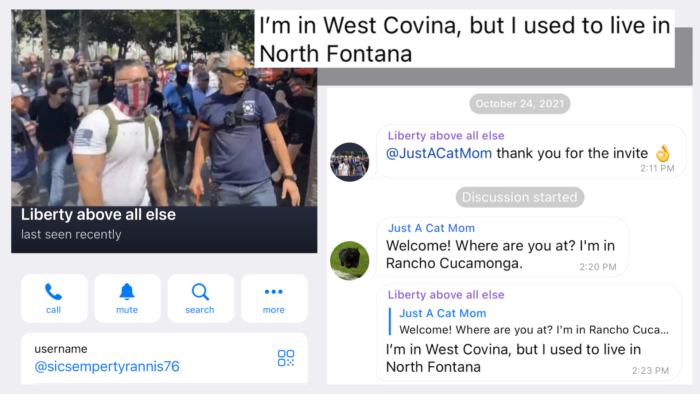 Louie Mario Flores's criminal record
Louie Mario Flores has a violent criminal history, which we summarize here.
In 1999, Flores was convicted of misdemeanor malicious mischief / vandalism (case 9JM02550-01) and sentenced to 3 years probation with community service.
Also in 1999, Flores was charged with driving without a license (P.C. 14601.1(A)) and plead guilty (case POM9PM00604-01).
In September 2001, while on probation, Flores was taken into custody and charged with 2 counts of making felony terroristic threats to a police officer (P.C. 422), plead guilty, and was sentenced to 32 months in prison (case KA054219-04). The case file for this conviction also mentions a previous conviction for P.C. 211 (felony robbery), but that file is sealed because Flores was 16 years when convicted.
Louie Flores works for Frito-Lay, City of Industry, CA
Louie Mario Flores works as a lead sales / delivery driver for Frito-Lay in City of Industry, CA. He drives the 3 a.m. to 4 p.m. shift. Flores may engage in racist "stickering" while on the clock for his employer.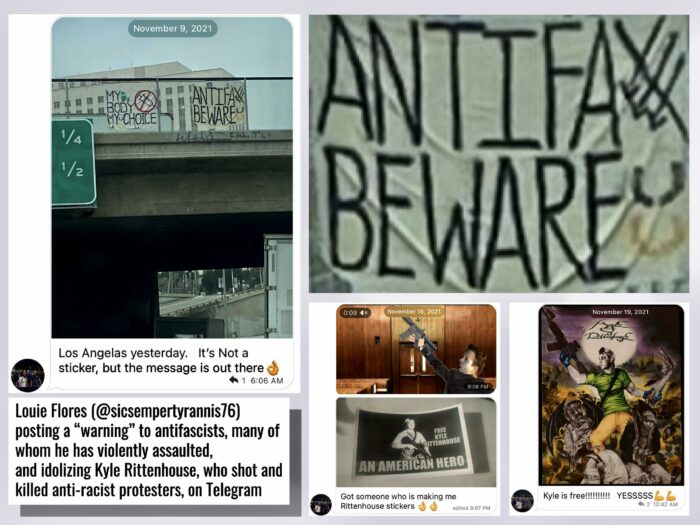 Flores has a violent criminal past and he continues his criminal behavior today. When he's not working for Frito-Lay, Louie Mario Flores joins his fellow Proud Boys rioting and violently attacking journalists, demonstrators, and random citizens. He has been filmed attacking people on multiple occasions.
Please call Frito-Lay's City of Industry office at (626) 855-1300 and politely inform them that their employee, Louie Mario Flores, is a violent extremist who has been filmed participating in violence and racist "activism" across Southern California.