Nicholas Daniel Large, 24, of Walnut Creek, CA, is an original co-founder of the Southern California based neo-Nazi active club Crew 562 (now known as Clockwork Crew). He is also one of the innermost members of the neo-Nazi cult the Church of Aryanity.
In addition to being a virulently antisemitic and racist member of a racial holy warrior cult, Nicholas (Nick) Large is also an eco-fascist, Ted Kaczynski enthusiast and incel-sympathizing misogynist who has shown more concern for mass-shooters than the children they have massacred.
As a graphics artist, Nicholas Large has created many recruiting posters and videos for the neo-Nazi club Crew 562 (Clockwork Crew.) While Nicholas Large uses Telegram as his primary social media, he does have an active Twitter account that he uses to post racist and antisemitic comments, and to send death threats to sitting state Senators.
| | |
| --- | --- |
| Name: | Nicholas Daniel Large |
| Lives: | Walnut Creek, CA and Concord, CA (formerly San Juan Capistrano, Campbell Valley, and Vallejo) |
| Born: | 05/12/1998 |
| Aliases: | Sigma Phoenicis, @SigmaPhoenicis, @PhoenixAurelius, Phoenix ov Emerald Rays, @BLACKSUNRAIDER, Phoenix Aurelius, Nicholas Morpheus, mysticphoenixovazazel, Azoth369, Azoth, Lux-Mundi, azothluxmundi, @azothluxmundi, Azoth |
| Known Associates: | Michael Halahan III, Gautam Reddy |
"Sir Phoenix": Neo-Nazi Cult Priest and Propagandist
Nicholas (Nick) Large is a member of the Church of Aryanity, a RAHOWA-obsessed cult whose doctrine is heavily based on nazi ideology. Having been officially dubbed an OMTO (Occidental Templars) knight, Large is a member of the inner priesthood of this race war doomsday cult and serves as one of the admins for the church's Telegram channels. Large has said of the church: "This is obviously a racist group with a twist, we are both pagan and Christian."
As an aspiring Fashwave artist, Large creates tacky, strabismus-inducing neo-Nazi propaganda both for the "church" and personal use. He also used his graphic design skills to create some of Crew 562's logos.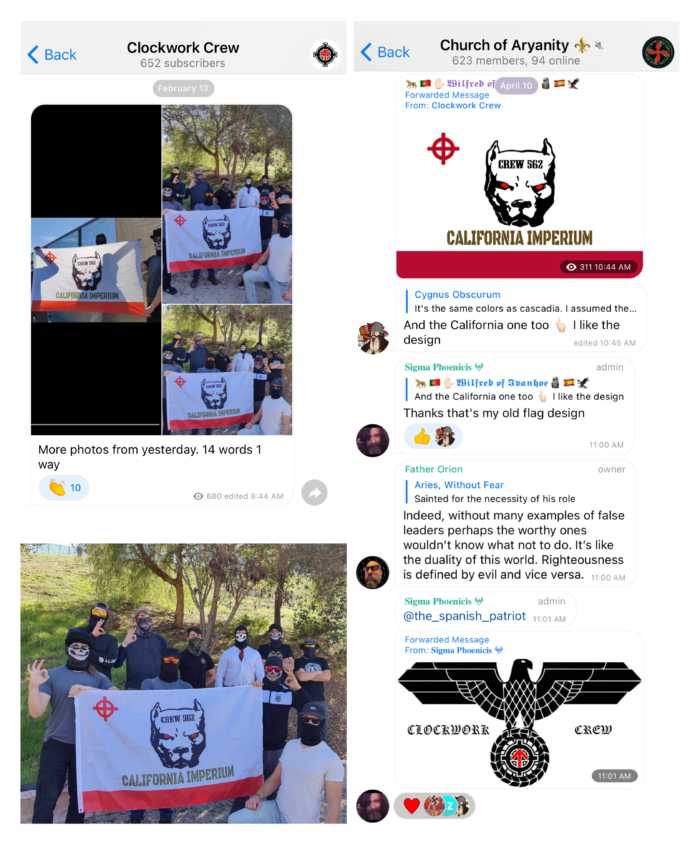 Large also attempts to recruit new members through contacts he has supposedly made in this underground "artist" community, as well as through old and new friendships. At the end of 2020, after spending months on the road living his best #VanLife, the Northern California native found himself single and friendless in Orange County, California, where he had taken a job working as a caretaker for people, including children, with autism and other disabilities through a Huntington Beach based company.
It was at this time, early Spring 2021, that Nick Large met his first friend in Southern California, a neo-Nazi, self-professed skinhead, and active duty Marine who goes by the nicknames "Zeta Phoenicis" and "Hrvati Warrior" on Telegram. We will be publishing more on this individual (who we have nicknamed "Ripoff Rundo") in a future post.
Neo-Nazi stickers in Long Beach, CA in early-mid 2021
Large and his new "brother in arms" immediately began engaging in the type of activism this new wave of neo-nazis is becoming well known for: stickering hateful propaganda around progressive cities. Through posts made on Telegram, it's clear that these two men are responsible for many of the racist and antisemitic stickers found throughout the Long Beach area in early-mid 2021.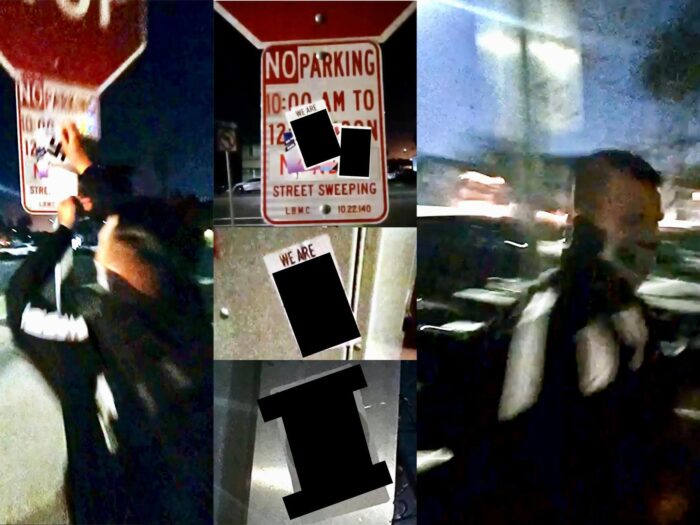 Over the course of the next few months, Crew 562, the first of two Southern California based "active clubs", was formed. Contrary to this hot take from TRAC, the propaganda video (screenshots above) and the written post that accompanied it (below) show that Crew 562 was actually started as a sort of "activism arm" of the Church of Aryanity. The active club operated under the church's "Southland Charter", which appears to have been the west coast chapter of the Occidental Templars (OMTO), the church's official knighthood that acts as the political arm for the church.
Note: See this post for an accurate explanation of the ties between NSC-131 and Crew 562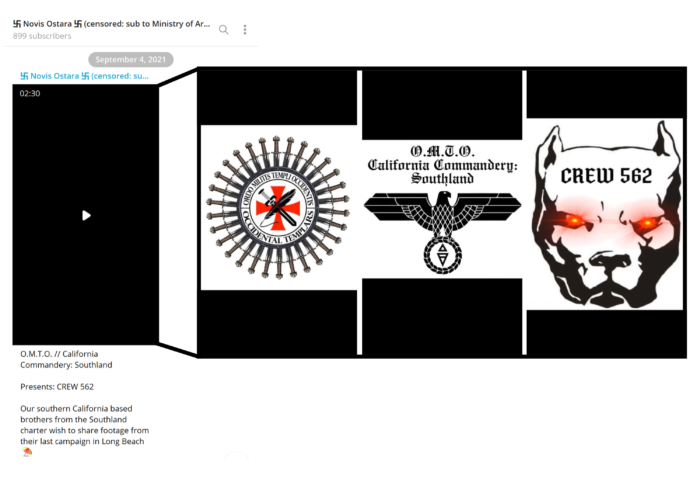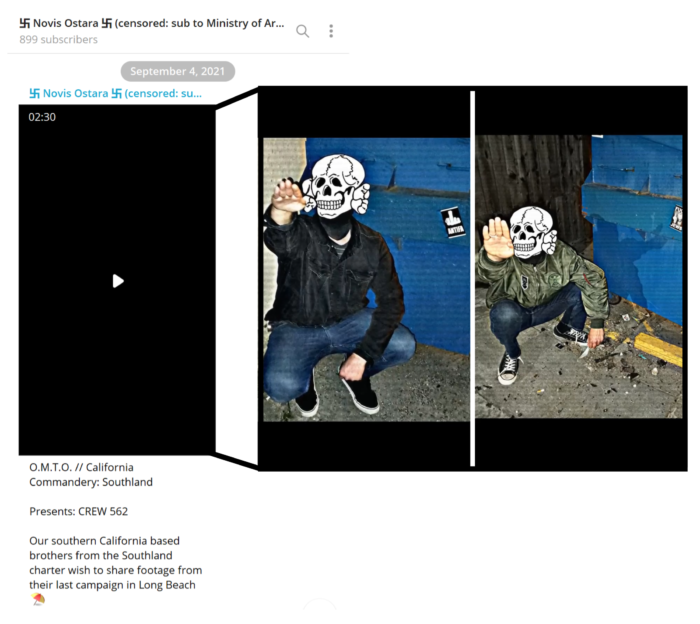 History and links between Church of Aryanity, OMTO, Commandery of Southland, and Crew 562
The direct connection between the Church of Aryanity (the central organization), OMTO (the cult's knighthood and political arm), Commandery of Southland (the west coast chapter of OMTO) and Crew 562 (OMTO's "boots on the ground" activists) explains the cross-posting between Telegram channels for Crew 562 and the Church of Aryanity, which includes the very first post on the active club's (now censored) channel. This is also why Crew 562 used the tagline "Our Race is Our Religion" – it's the meaning behind the acronym the cult leader, "Father Orion" uses in both his "spiritual" and pen names.

Screenshots from the group's private chat showed member crossover between both the church's SoCal based satellite "charter" and their new active club, which leads to the reasonable conclusion that the active club likely attempted to use its very close proximity to the official White Lives Matter California chapter to act as a feeder group to recruit new members into the cult. Both Large and Ripoff Rundo held leadership roles within the Commandery of Southland, where they carried the LARP-y sounding titles of "Knight Master" and "Knight Commander".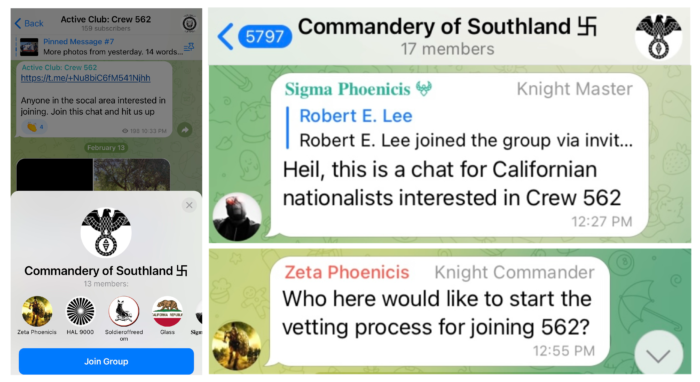 In April 2021, Large started a new job in sales with a Texas based company and by the summer he had moved back to Concord in Northern California.
Two members of the church's "Commandery" and Crew 562 went on a stickering spree in April 2022 where the pair put up Church of Aryanity propaganda in Anaheim, CA and Oceanside.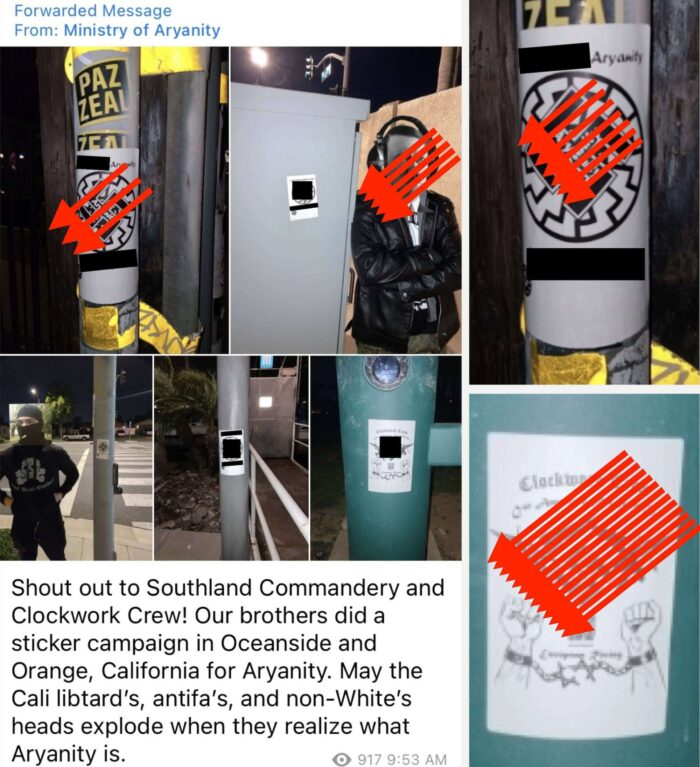 On May 6, 2022, the church found itself without an official active club and the Commandery of Southland became defunct when Ripoff Rundo, the "leader" of Crew 562 (Clockwork Crew) was kicked out of the cult for "insubordination". This came less than two months after the official CA chapter of WLM abruptly and publicly distanced themselves from Crew 562 and its members, though the details of that particular neo-Nazi drama have not been publicly disclosed.
Through this split, Nick Large remained loyal to the cult and is still one of the innermost members. Sigma Phoenicis now goes by Phoenix ov Emerald Rays on Telegram as his cult-counterpart, Zeta Phoenicis, was deemed no longer worthy of using the super special code name bestowed upon him by the cult's leader when he was stripped of his knightly duties.
Nick Large: Doxxed By A Dildo
At 6' 3", Nick Large's height is only eclipsed by the size of his mouth. He talks – a lot – which is how he was positively identified as the poster behind the Telegram and Twitter username "Sigma Phoenicis",
Large has posted plenty of physical descriptions of himself on the church's main Telegram chat: He described himself as tall and lanky with a big belly; He has a round head; He has dark blonde hair, amber-brown eyes and a ginger beard. He recently posted a picture of himself, but he was wearing a Crew 562 branded balaclava and edited a pair of sunglasses onto his face, obscuring any potentially identifying details. It seems as if "Sigma Phoenicis" did not want to be identified.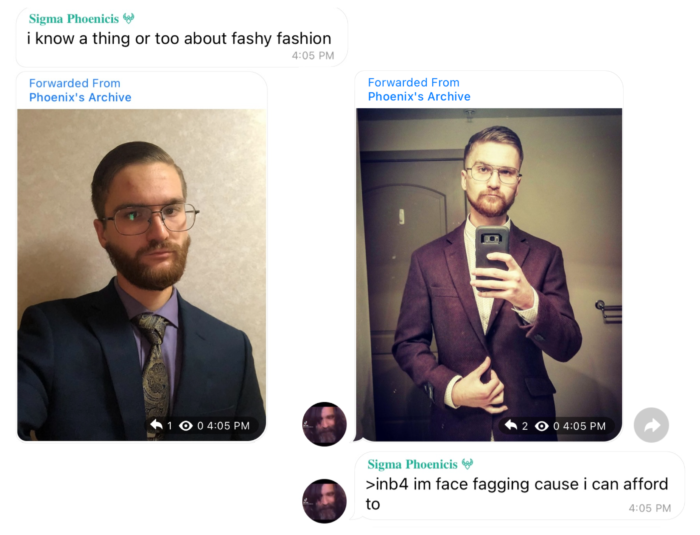 "Sigma Phoenicis" didn't remain unnamed for long after his selfies were discovered. It was through his claims of having been a founding member of the American Fascist Party, a small, insignificant group that most people have never heard of, as well as his close, years-long friendship with another former AFP member, Gautam Reddy, a Northern California man with a history of menacing and harassing leftist women, that led researchers to Sigma Phoenicis' full name.
Gautam Reddy, who is of South Indian descent, is a Trump-era fash collaborator who has more recently closely aligned himself with blatant and unapologetic white-supremacists. Reddy is huge fan of Finnish Nationalist Kai Murros and was a very active participant in the church's Telegram chat in 2021, which he was allowed to join as an "Honorary Aryan", likely due to hopes that the contacts Reddy had supposedly made throughout his years as a right-wing "activist" would benefit the church in their recruiting efforts and forming alliances.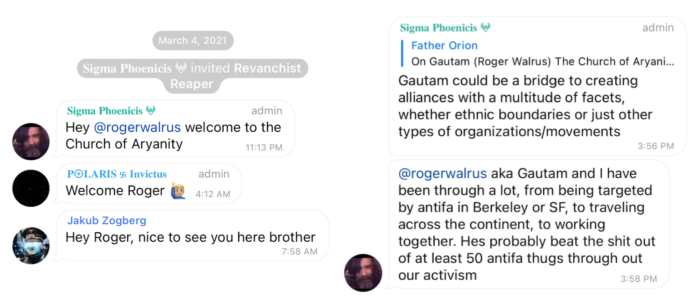 Gautam Reddy has since changed his Telegram username and handle from @rogerwalrus to @Revanchirst_Reaper, but members of the chat regularly addressed him by his real name. Between that and the fact that one of the first things he did when he joined the chat was drop a link to a new podcast he was working on, which he had commented on through his personal YouTube account that contained his full name, he was very easily identified.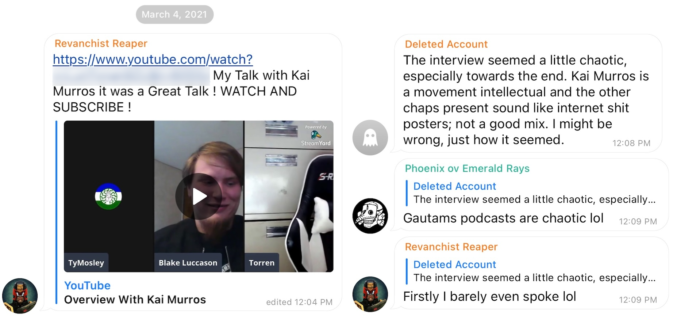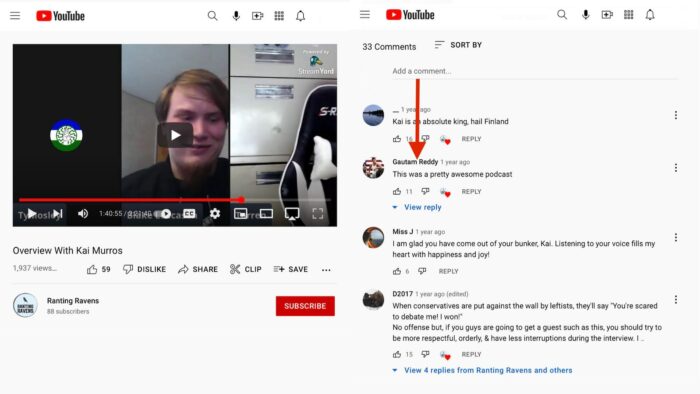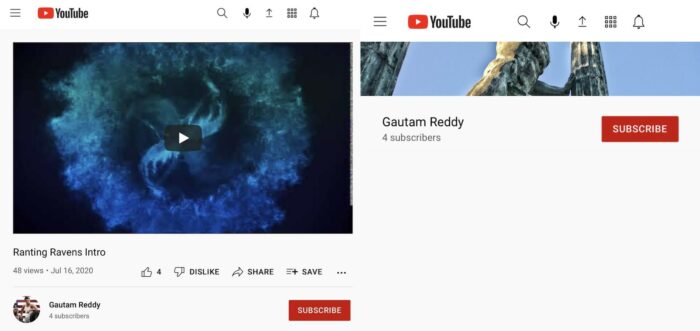 Through other discussions on Telegram, we learned that "Sigma Phoenicis" is a proponent of polygamy, which would explain his bizarre fascination with Mormonism and "White Sharia", a pseudo-philosophy in which white women are subjugated to men and regarded as no more than baby-makers. This belief tracks with comments he later made on his Twitter account, where he not only made degrading (and highly immature) comments about women, but also comments insinuating that (white) men are entitled to women.
In the screenshots below (taken from two different conversations), Sigma Phoenicis jokes about making Gautam his butler when he converts to the most perverse version of Mormonism possible and focuses on "repopulating" the "Aryan race".
Later, Gautam attempts to explain the concept behind "white sharia" to another member of the cult as "Nick" had explained it to him. He then tags the wrong account, but it was clear that Gautam had just made two mistakes – and one of them had given researchers the name they had been looking for.

Now that the names of both Nick and one of his personal, long-time friends were known, they were both easily found through their former connection to the aforementioned American Fascist Party. Even though Nick has said he'd been doxxed previously, what was discovered was quite unexpected.
It was through a series of bizarre tweets and links to Facebook posts from a disgruntled former member of the AFP that a full name (and hilariously, also a dildo) could be put to the face of Sigma Phoenicis.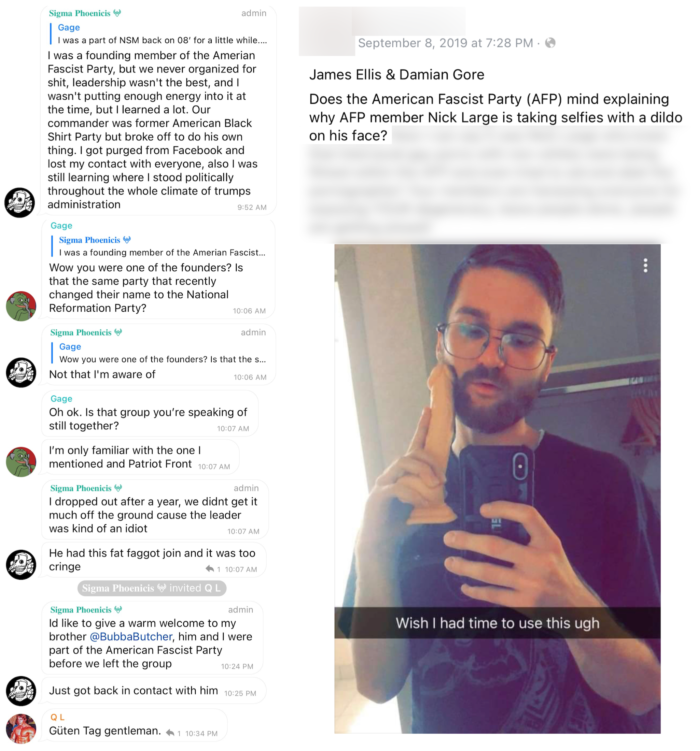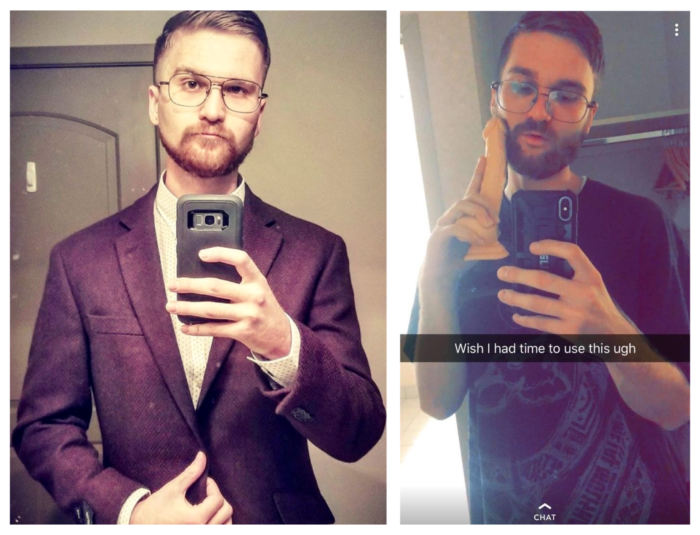 Nick Large isn't the only one who got put on blast during this fash-on-fash fight. Gautam Reddy was also exposed: A picture of him, spread eagle and grinning, was posted to both Facebook and on a blog.
Note: We won't link to any of the original posts, and have chosen to redact part of the one we did, as the person who wrote them has some extremely problematic views that shouldn't be amplified, but archived versions of the original images that were posted can be found here:
Gautam Reddy (open at your own risk)
Nick Large: Social Media, Professional Profiles and Other Online Accounts
Multiple social media accounts and professional profiles belonging to Nick Large have also been identified and confirmed.
Twitter
Sigma Phoenicis • @SigmaPhoenicis
(Formerly: @PhoenicisSigma)
Twitter ID: 1503096555401740289
Nick Large joined Twitter on March 13, 2022, the day that other members of Crew 562 joined Aryan Bacon's Hate Parade in San Diego, CA. The first tweet from Large was a comment in praise of the active club's antisemitic "activism".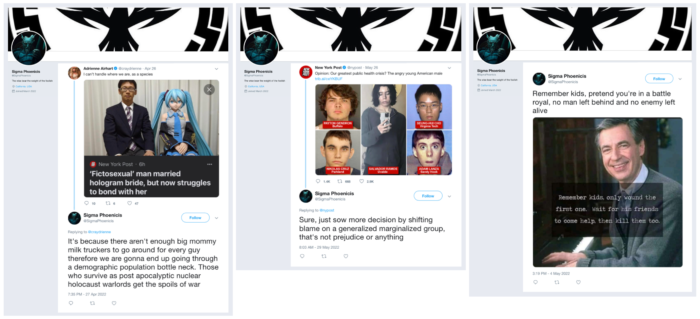 It didn't take long for Large to go from trolling antifascist activists, laughing at members of rival crews getting doxxed and challenging Dropkick Murphy's to a fight on behalf of NSC-131 like a bad-ass keyboard warrior to really start showing his true colors as an incredibly immature misogynist, an incel sympathizer who feels entitled to women, a mass shooter-child killer apologist and a violence glorifier. Large also regularly gets his Dunning-Krueger on and posts plenty of wildly uneducated, contrarian and conspiracy theory influenced comments.
Nick Large has also made threats against both journalist Taylor Lorenz and California State Senator Scott Wiener, the latter of which was made the day after the Senator had received a death threat. According to Nick Large, "It's only illegal if you get caught"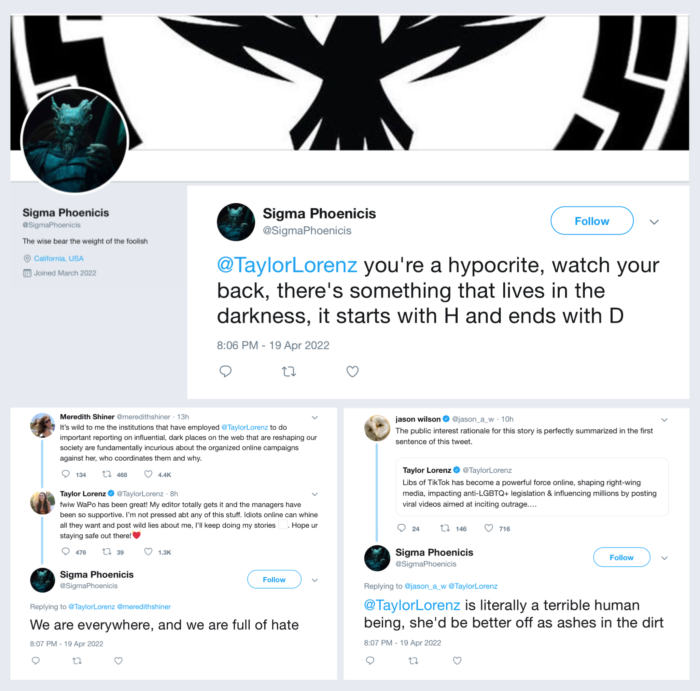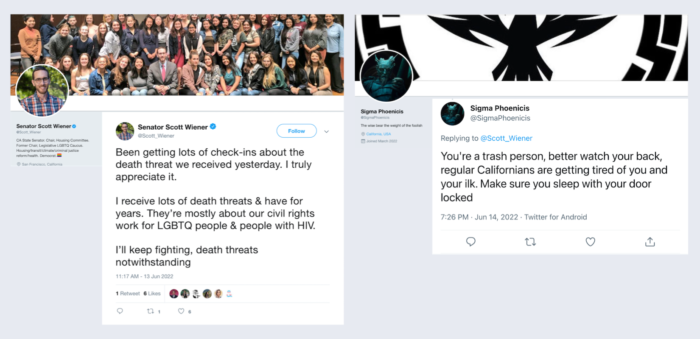 Instagram
azothluxmundi
One of two Instagram accounts belonging to Nick Large. This account, with just three posts, was only active from April-August 2020 but in one of the posts, Large writes a caption that gives off serious "lone wolf" vibes and closes it with hashtags that include #tedkaczynski and #ecofash (eco-fascism).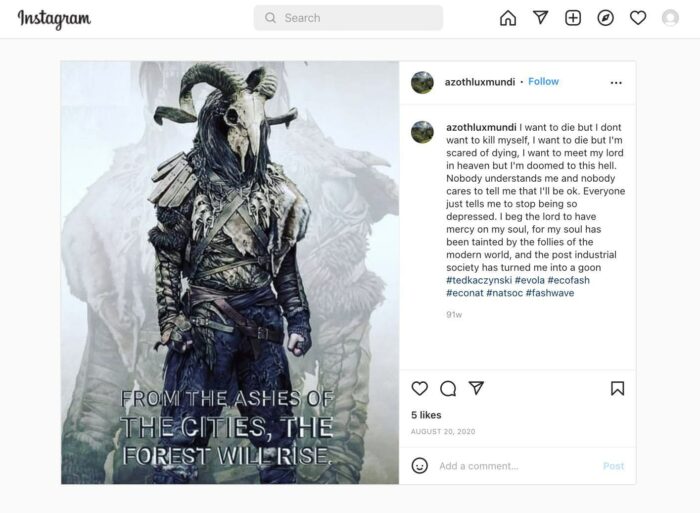 The second Instagram account belonging to Nick Large was actively posting in March and April of 2022. In May, Large deleted four of the seven posts from the account and changed the username from "mysticphoenixovazazel" to Nick Large just a few days later. For some reason, he chose to delete some of the more benign posts (as well as a post about "Aryanity") but kept a post in which he (once again) glorifies Ted Kaczynski, this time using the hashtag #tedkaczynskididnothingwrong.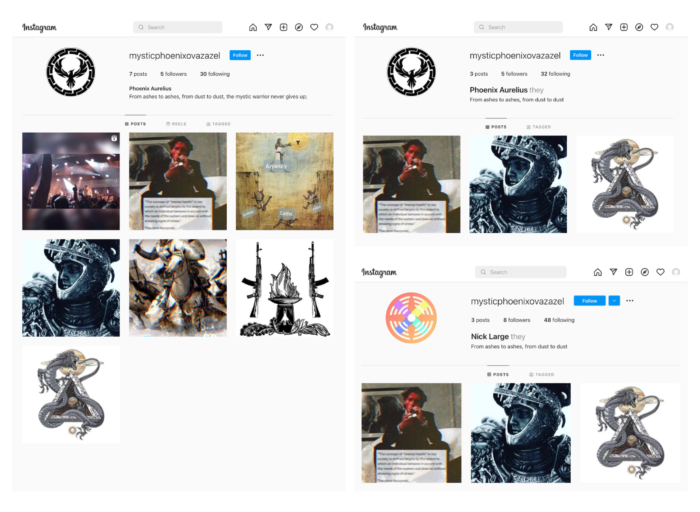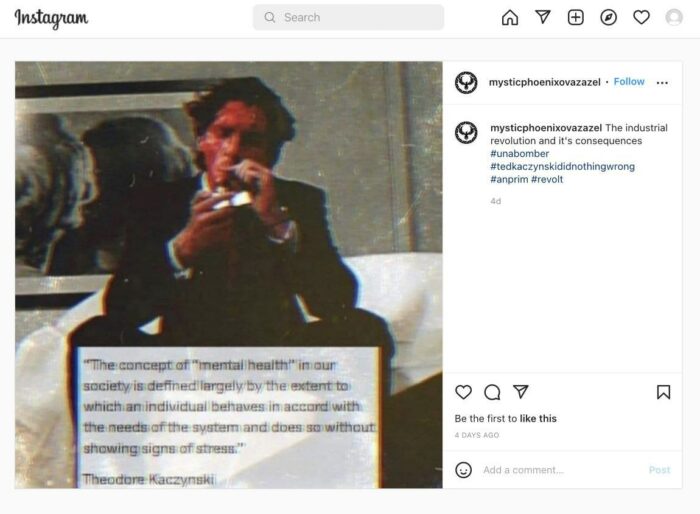 Large also used the hashtag #anprim (anarcho-primitivism), which shows that he very likely lacks even a basic understanding of the concept as it is ideologically incompatible with #ecofash (eco-fascism), which he has used in other posts and claims to support.
What is clear is that Nick Large, who is a full-blown fascist, appears to support violence for violence's sake.
TikTok
One of two TikTok accounts belonging to Nicholas Large. He only posted a single boring video in November 2019 before seemingly abandoning this account.
The second of Nick Large's TikTok accounts only has two videos, both of which were posted in mid-2020 while Nick and his former (long-term and formerly long-distance) girlfriend were living together in a van.
In the first video Large can be seen singing with a cartoonish filter distorting his face under the words "research adrenochrome" – which is no surprise considering all of the other conspiracy theories and pseudo-science he and other members of his cult believe in.
Discord
Chat messages from Nick Large were also found among the Discord leaks put out by Unicorn Riot. Posting under the handle "azoth", posts written by Large were found in both 🍀 The Warlords Camp 🍀 and Zeducation #📣 servers.
When Large joined The Warlords Camp server in November 2019, he busted into the chat like a rabid horndog and in a seemingly desperate bid to impress a group of likeminded (racist, antisemitic, misogynistic) strangers (men) he began cringe posting within the first three minutes, including TMI about one of his "supposed" sexual conquests.
He then blamed his "degenerate" behavior on his personality disorder, which he has talked about in the cult's main Telegram chat (as well as his history of mental health issues, which included taking the antipsychotic medication Seroquel, that he has chosen to "self-treat" partly due to his false belief that pharmaceuticals calcify the pineal gland).
The Discord leaks also show that Large was actively seeking out new friends in California to prepare for the impending civil war with – and apparently, also a girlfriend – which is interesting since his long-term relationship with his (now former) girlfriend hadn't yet ended at the time he made these posts (which are problematic for other reasons as well).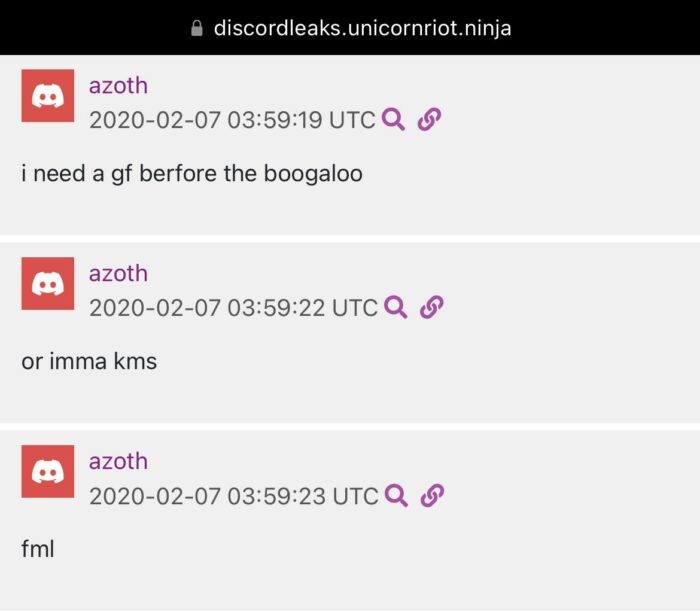 His post about "needing" a woman by his side when SHTF was followed up with a series of pitiful pleas for a friend, which appear to have gotten no response. Large tried again a month later by offering a neo-Nazi version of friendship bracelets: eco-fash skull masks. Once again, it appears that there were no takers. To see Large so desperate to connect with other fascists and neo-Nazis in 2020 was a stark contrast to comments he made in the church's Telegram chat just a few months later claiming that he had previously been "very active" in his local activism scene up in Northern California.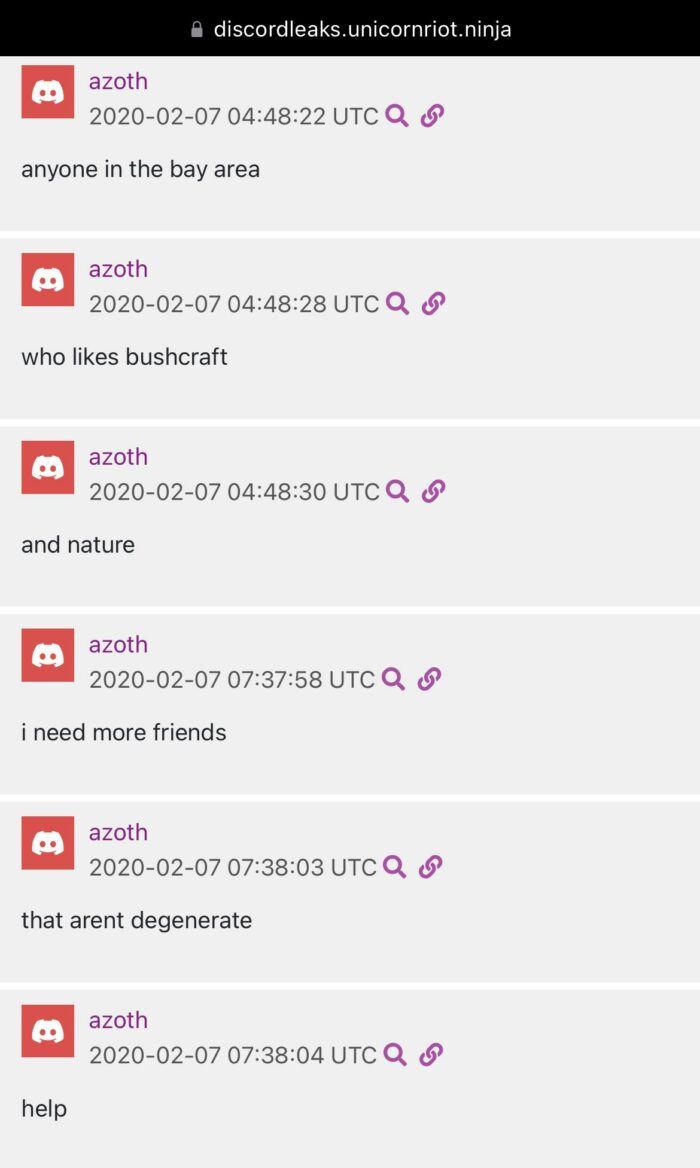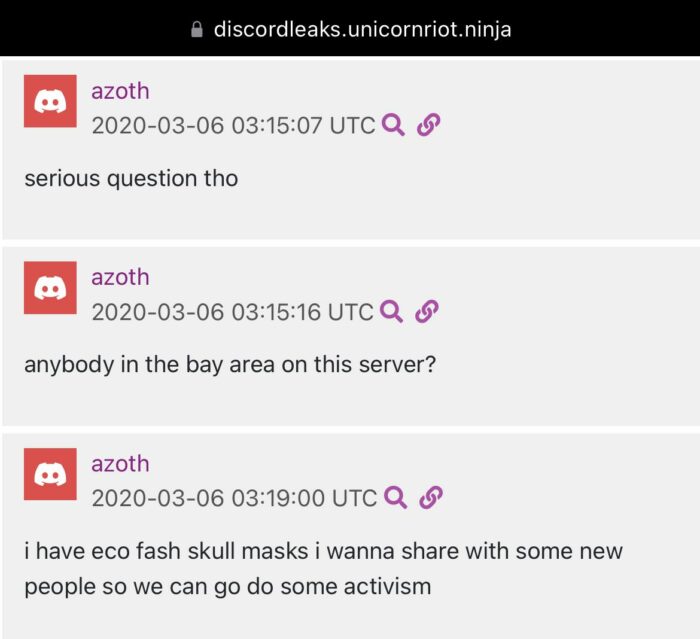 As pathetic as these posts are, Nick Large is far from deserving of any sympathy. This is man who celebrates violence against innocents, shows sympathy for mass shooters while disparaging their victims, and belongs to a cult that believes Hitler didn't go far enough and whose goal is to usher in the Fourth Reich.
Facebook
This Facebook profile belonging to Nicholas Large doesn't contain much information and seems to have been abandoned around October 2021. It does, however, have a profile picture with Nicholas's face visible, showing what he looks like with a beard and no glasses.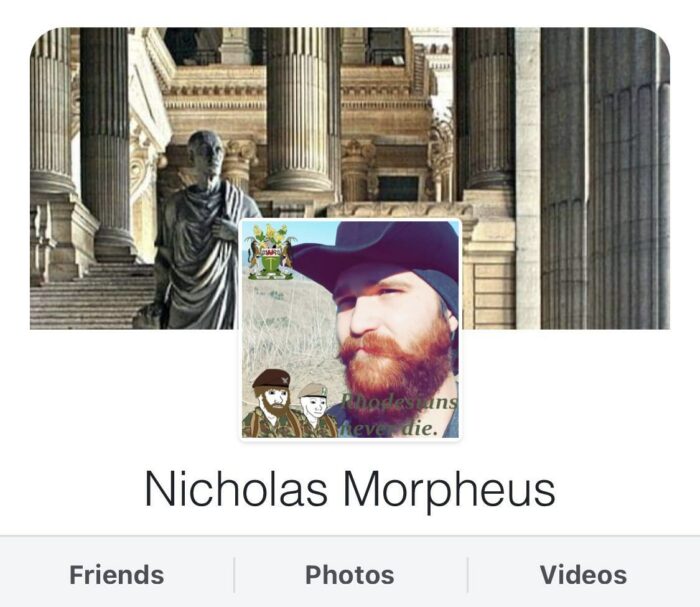 The second Facebook account belonging to Nick Large was created in March 2022. The account originally used the name "Phoenix Aurelius", but he changed his username in mid-May 2022 to his actual name, just as he did with one of his Twitter accounts. Out of the small handful of friends of this account, at least two are among the innermost members of the cult.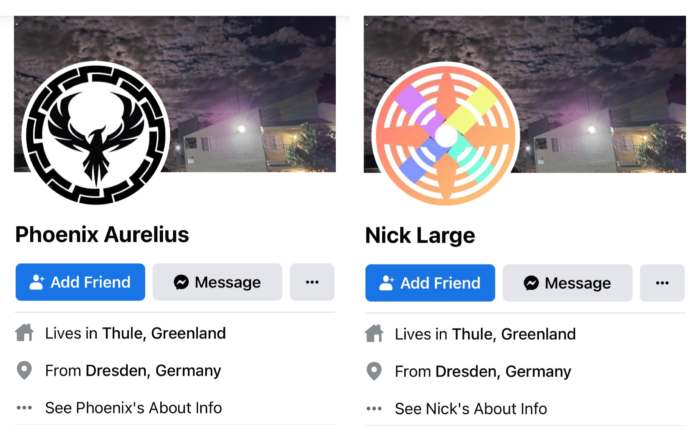 At the time he made the name changes to these accounts, he had already been identified and this was just further confirmation of his identity.
Fiverr
A profile on this website for freelance web designers was also found to belong to Nick Large. His bio states that he runs Firefly Digital Marketing Agency, but besides a large digital media company of the same name based out of Canada, all that seems to exist for this business is a Pinterest account that definitely belongs to Large.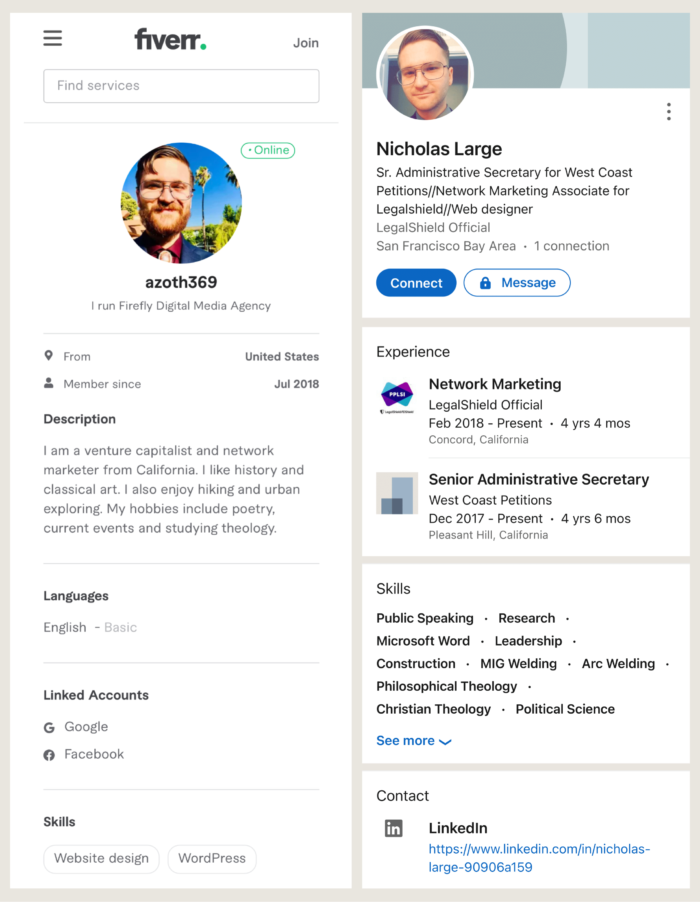 LinkedIn
The LinkedIn account for Nicholas Large doesn't list the caretaker position he had while living in Orange County, California and it may be possibly be outdated, but it does show that Large has a tendency to work in sales-networking positions. His listed experience with hawking prepaid legal plans tracks with a comment he made in 2021 about the training he did in Texas for his new sales job.
He also has "web design" listed on his profile, but it's unclear if he's had any success with this type of freelance work – and judging by the graphic design work he does for neo-Nazi propaganda, his chances of launching a successful design company are likely slim.
Nicholas Large criminal and legal background
Nicholas Large had a suspended driver's license from mid-late 2019 until the beginning of this year due to failing to pay the $150 fine from a speeding ticket he received in Minnesota, during what was likely one of many times he traveled there to visit his former long-term girlfriend who he was with from at least 2018 through late 2020. She had posted on Facebook back in 2018 about living exactly 1,538 miles away from Large, which is how researchers knew which general area to check for potential court records. This traffic citation-petty misdemeanor is how Large's date of birth and his previous address in Vallejo were both confirmed and his drivers license number became known.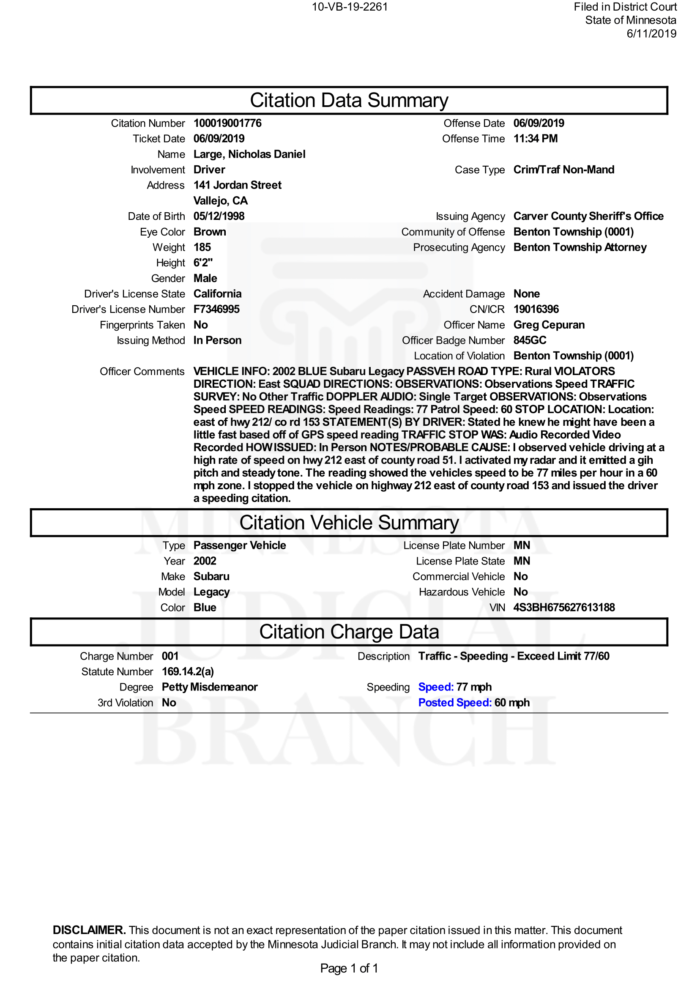 It appears that Nick Large may have been driving on a suspended license back in 2021. He posted a picture of the Mazda 323 he bought in April 2021, as well as a short video clip of him driving it, despite not having filed to have his license reinstated until January 2022.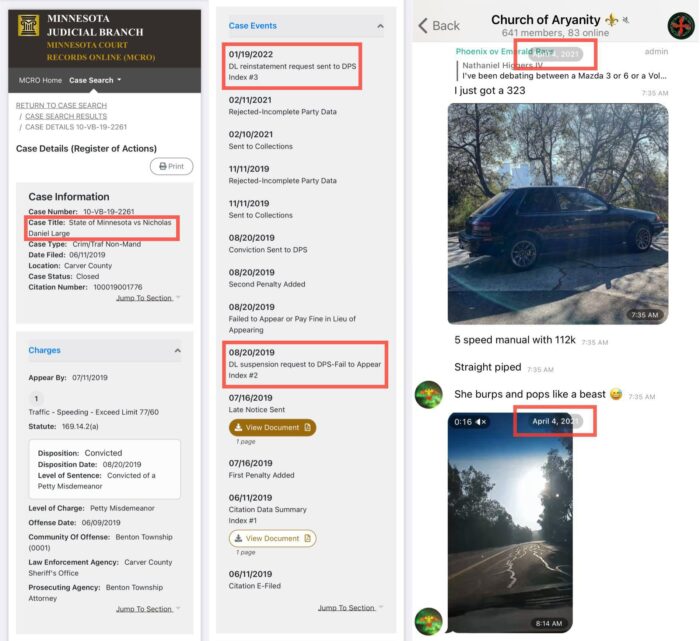 A petty misdemeanor due to an unpaid traffic ticket is among one of the lowest-level offenses somebody could commit, and no other criminal records for Nicolas Large have been discovered that would explain why he is legally banned from owning a firearm. The reason for this firearm ban is unknown, but considering the violent ideology that he shares with people and groups that he is closely associated with that have committed violence against vulnerable groups and other political activists, as well as the comments that he freely makes on social media make it clear that Nicholas Daniel Large is a danger to the community of Contra Costa County and the surrounding areas.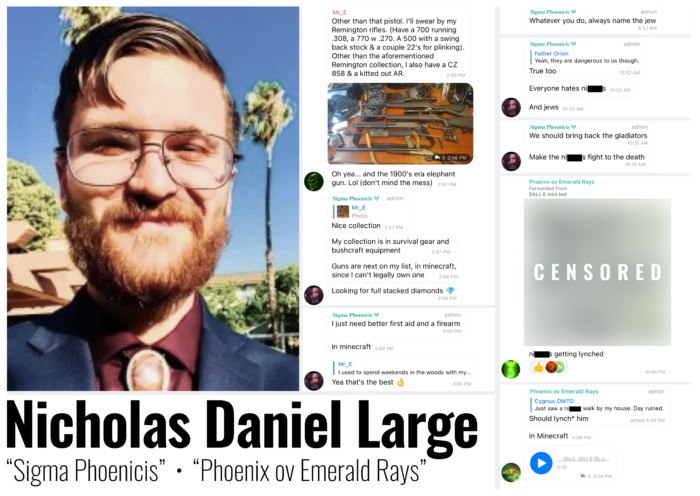 Nicholas Large is also a danger to communities in which he doesn't reside, as he is a member of a neo-nazi cult that foments paranoia, stokes resentment by blaming all perceived injustices against its members on Jews and racial minorities, and whose existence is predicated on the racial holy war they believe is imminent.