Michael Halahan III, 24, of Orange, CA, is a neo-nazi member of a Southern California-based white supremacist "active club" calling itself Crew 562. Halahan has participated in multiple racist and antisemitic provocations in Southern California alongside Crew 562 and the white supremacist hate group Goyim Defense League.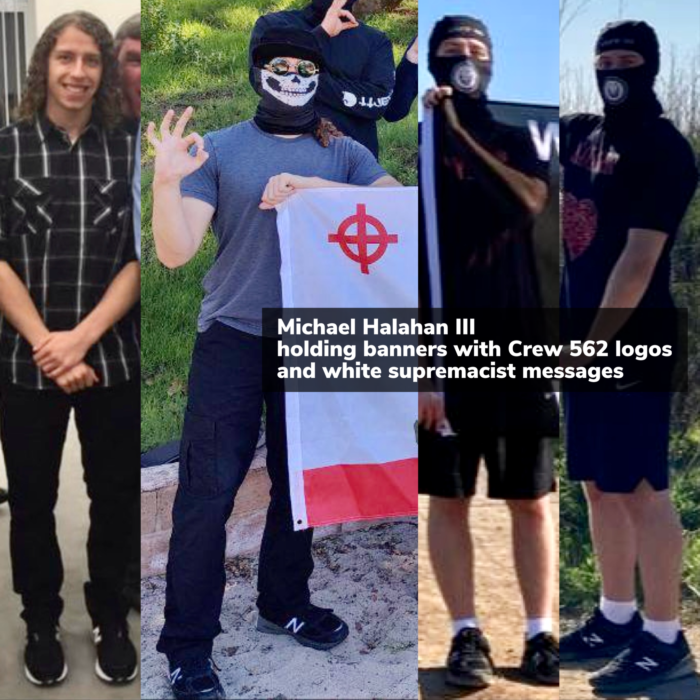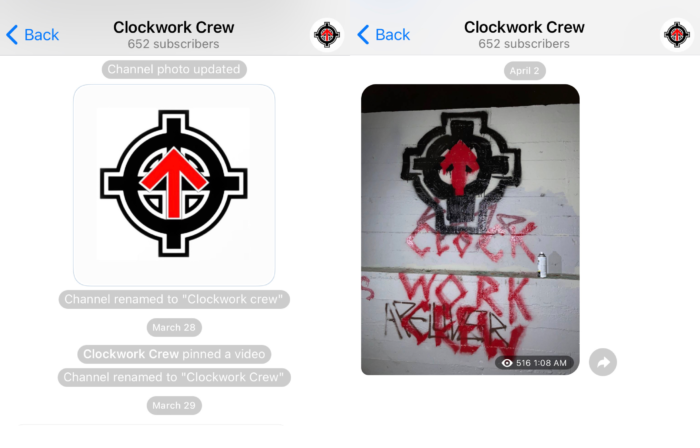 Crew 562 is one of many whites-only "active clubs" inspired by Rise Above Movement that have popped up across the country since the coordinated, branded and state-specific White Lives Matter chapters suddenly appeared on Telegram in the Spring of 2021.
Crew 562 is very similar to its Southern California counterpart, SoCal Active Club (formerly called Legion XIV), with members often appearing to overlap with joint "activism" and "training" sessions, but it is a separate and distinct group that formed and operates under the larger "White Lives Matter movement". While both groups are virulently racist, antisemitic, homophobic, transphobic and sexist, Crew 562 is much more blatant about the hateful ideologies shared by its members.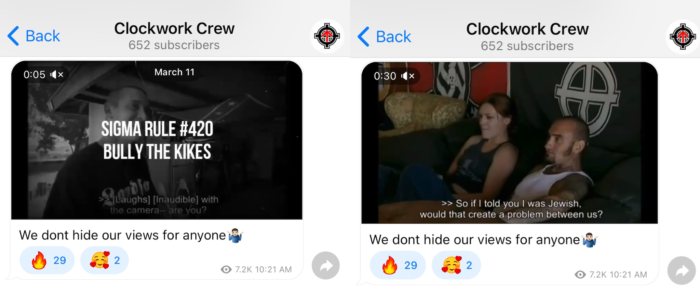 Michael Halahan III: White Power "Activist"
Michael Halahan has participated in multiple acts of what these neo-nazi groups consider to be "activism": Dropping racist and antisemitic banners over freeway overpasses and distributing white-supremacist propaganda by "stickering" public property – but Halahan and other members of Crew 562 took their activism a step further (or rather, 1000 steps too far) when they joined Goyim Defense League leader Aryan Bacon's hate-parade.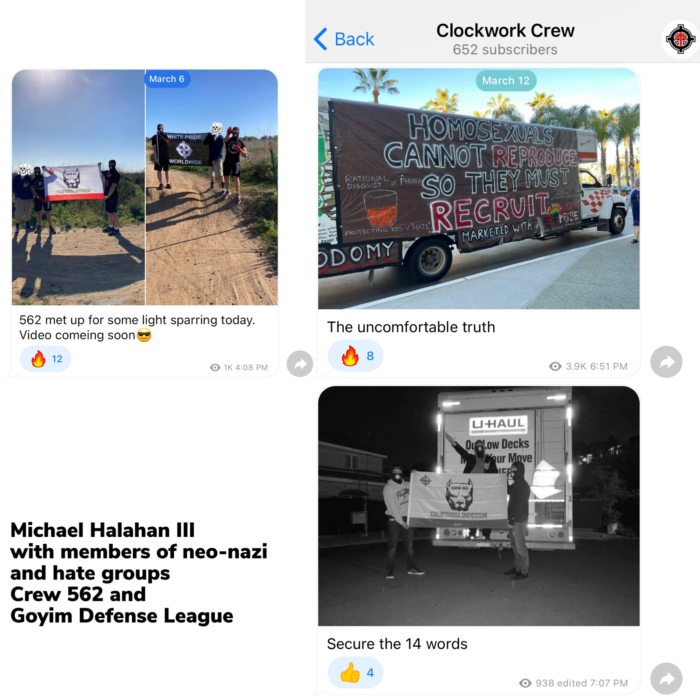 On March 12th, 2022, Goyim Defense League member Robert Frank Wilson (who goes by the moniker Aryan Bacon) rented a U-Haul and turned it into a traveling antisemitic billboard. Wilson, along with Michael Halahan III and two other members of Crew 562, drove around San Diego and harassed those who expressed disgust with the full display of hatred by yelling disgusting comments such as, "We're trying to protect children from the f*cking k*kes!".
As the U-Haul made its way through San Diego, it was filmed and photographed from three perspectives: Inside the U-Haul by Wilson's passenger; From other motorists and pedestrians; Through the sunroof of a car that was tailing the U-Haul. It was through a combination of this footage that Halahan's identity was confirmed.
Michael Halahan III's identity revealed
A photo was taken by a motorist who noticed not only that a blue BMW was following the U-Haul, but also that the passenger of the car was filming the truck through the sunroof. Clips of that footage was later posted on a Telegram channel composed of clips of Aryan Bacon, which shows a split-second reflection of the camera held out of the sunroof and a few quick glimpses of the driver of the blue BMW.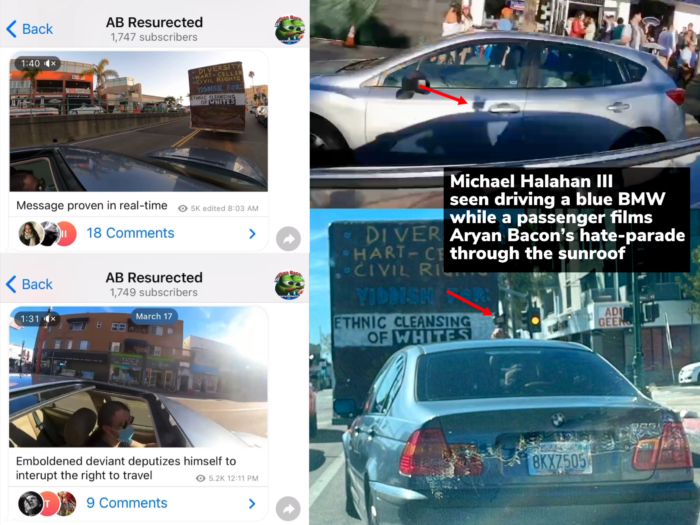 A frame-by-frame comparison of the sped-up footage that was filmed through the sunroof of the blue BMW and posted to Telegram shows more of the driver and reveals two key details: the driver has long, curly hair and is wearing sunglasses with small, round frames. These details were confirmed by eyewitnesses.
These details matched with a known, but unidentified, member of Crew 562 – a member now confirmed to be Michael Halahan III.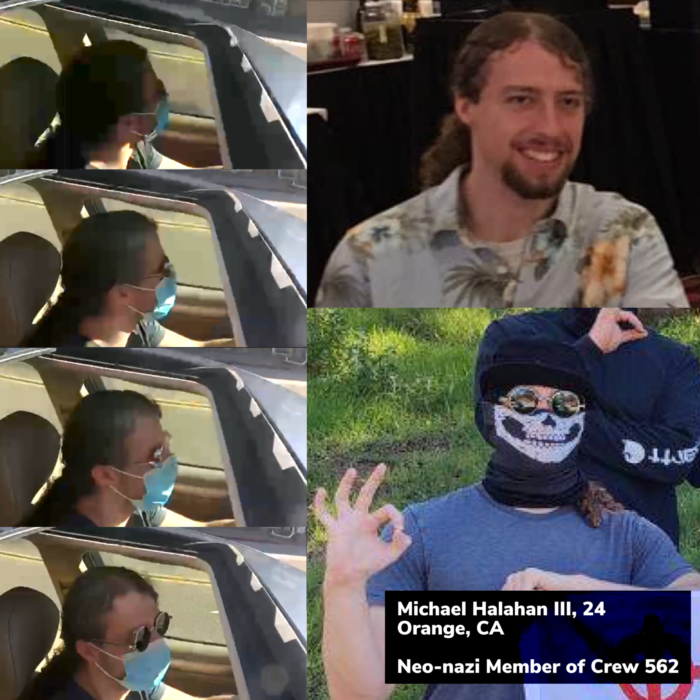 The blue BMW in these videos (CA plate 8KXZ505), which can also be seen in the background of another Crew 562 propaganda video, is known to be driven by a resident of a multi-unit residential complex in Orange, CA. The entire building is owned by a relative of Halahan. This residence is within walking distance of a park where Crew 562 regularly holds "training sessions".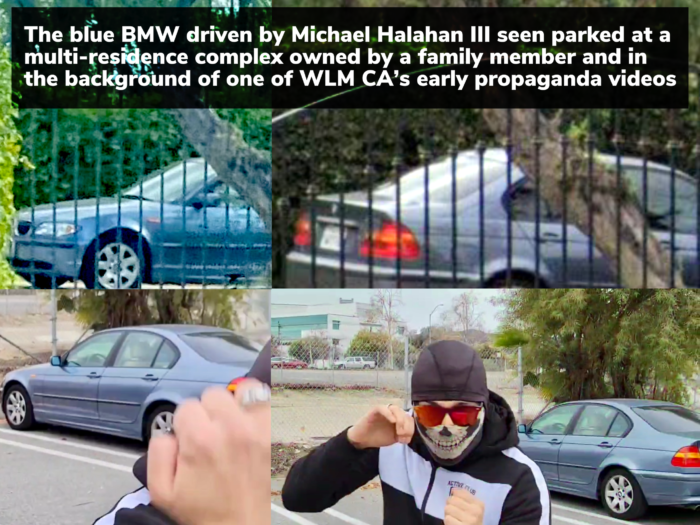 Michael Halahan III: An Online Ghost
Michael Halahan has almost no online presence: He has no social media accounts in his name, he doesn't appear in any news stories, and the scant information that is available is vague and possibly outdated. However, a few pictures of Halahan were found and they easily confirm that he is a member of Crew 562 who has participated in multiple racist banner drops and "stickering" alongside known and unknown members of local hate groups and white supremacist organizations including Robert Wilson, Robert Wheldon, Johnny Benitez and Shaun Mulville.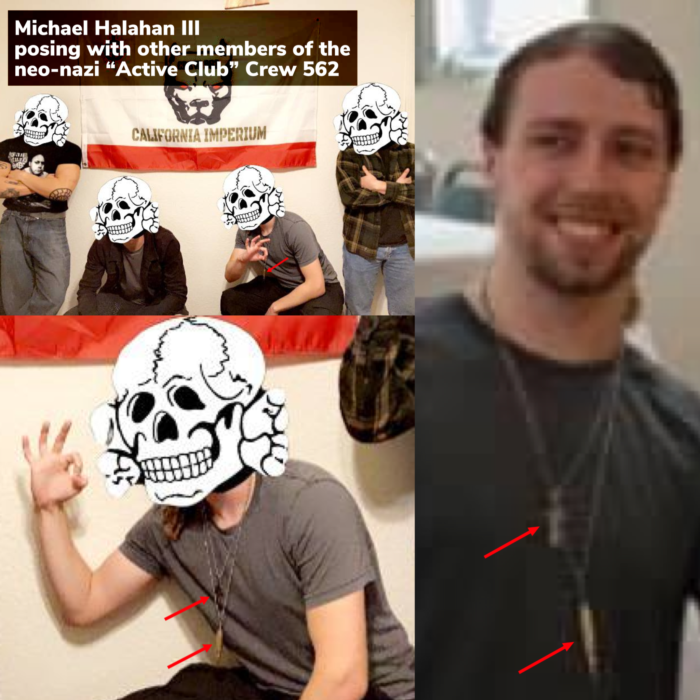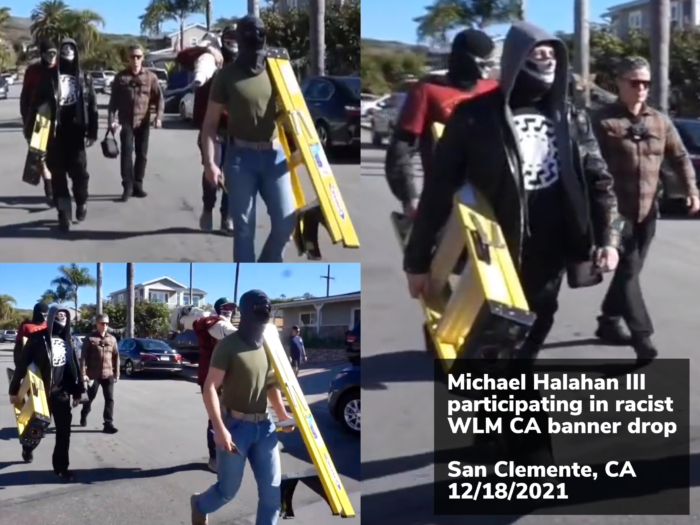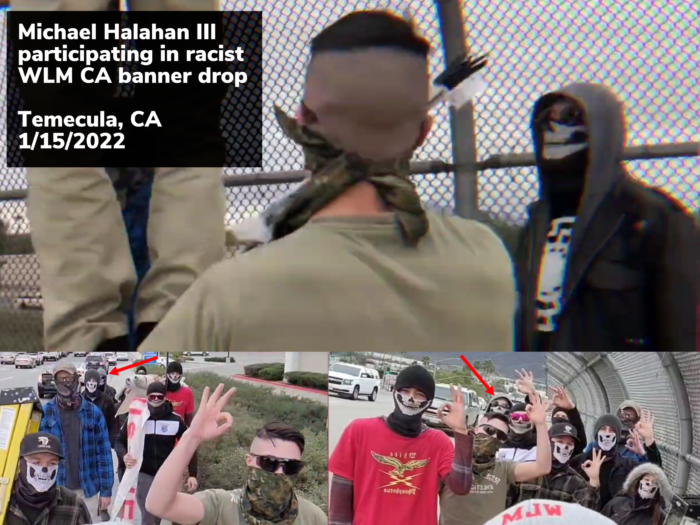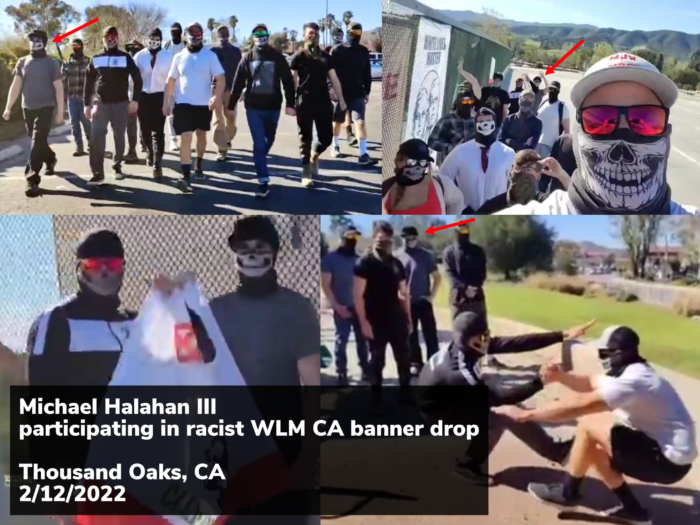 Halahan regularly participates in "training sessions" with other members of Crew 562, which often take place near his residence at Eisenhower Park in Orange, CA. He has also taken day-trips to places like Murphy's Ranch, an abandoned Nazi compound that has become a tourist attraction for white supremacists, with other members of Crew 562.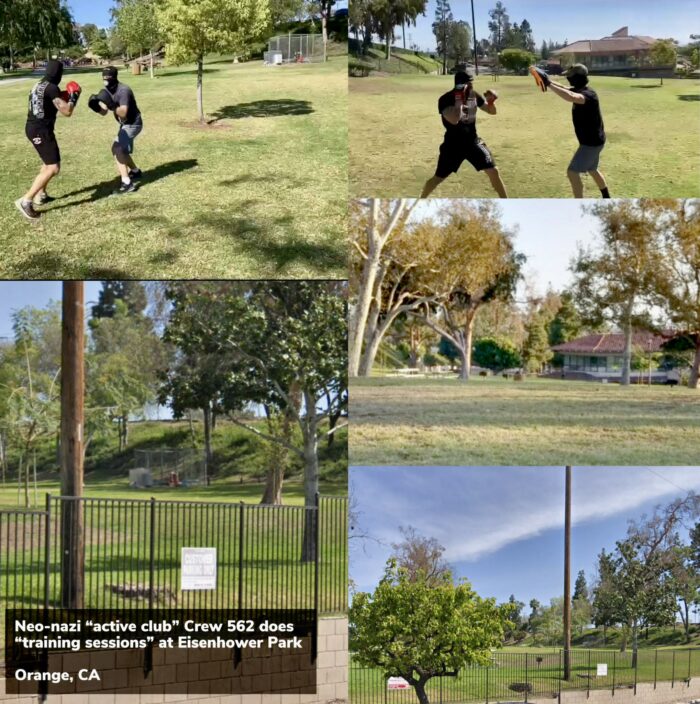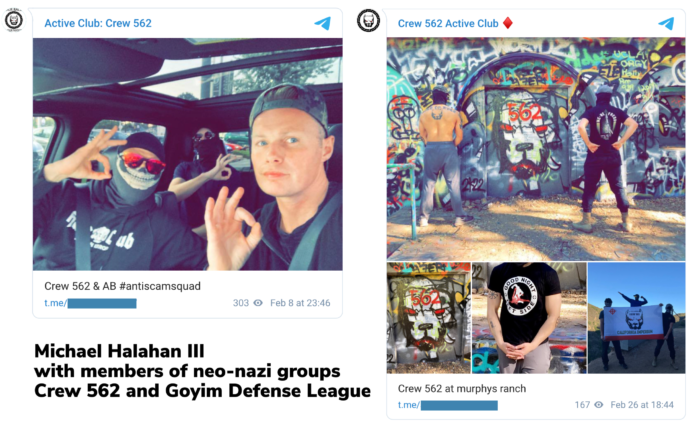 Crew 562: Proponents of "Aryan Spirituality"
Recently two members of Crew 562 went "stickering" in Anaheim and Oceanside, CA. They were promoting a whites-only, rabidly antisemitic "church" that was founded by former members of a well-known, but defunct, hate group. Due to the direct relationships between the two groups, we will be publishing our research on the Church of Aryanity very soon.
During these events, one of the Crew 562 members was wearing a leather jacket (that has a few distinct details) over a grey zip-up hooded sweatshirt. An identical jacket and hoodie has been spotted in previous "activism" footage and Telegram posts, two of which are confirmed to be Halahan. This leads to the reasonable conclusion that Halahan appears in the other footage and posts as well with Church of Aryanity.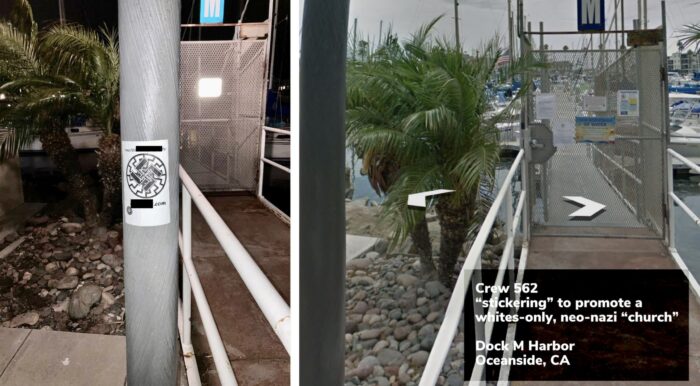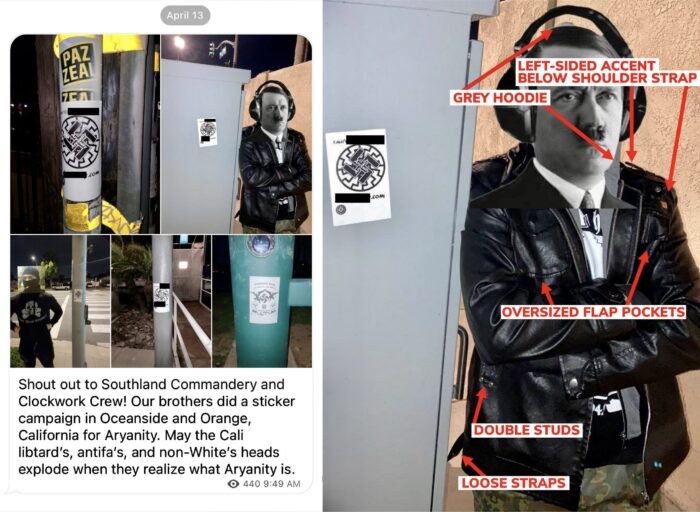 Michael Halahan III, 24, of Orange, CA is a dangerous neo-Nazi
Michael Halahan III is a member of a neo-nazi "active club" with direct ties to extremist white-supremacists. Halahan is a danger to the communities of Orange County and the surrounding areas.